Courage, Certainty, and Leading Through the Complex Currents of Relentless Change
Online Article
Leadership
Corporate Governance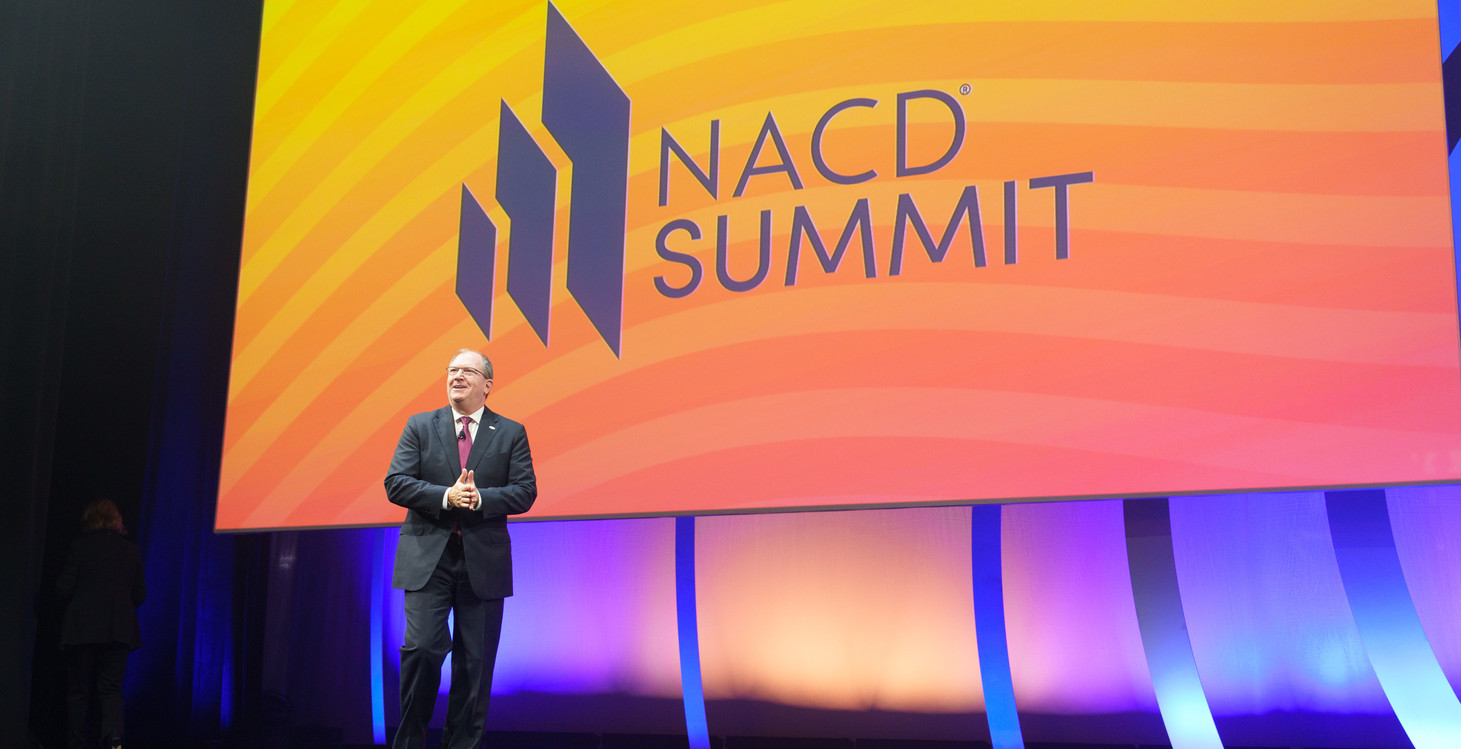 Peter R. Gleason, NACD president and CEO, details recent and upcoming initiatives as he gives his opening speech at NACD Summit 2023.
You are here today because you're dedicated to excellence in governance. Year after year, the entire NACD team is here to help you and your peers navigate the complex currents of board leadership. Being part of this peer community puts you among fellow directors who genuinely understand the magnitude of the challenges you face.
We are living through a period of rapid, unnerving change—be it economic, social, regulatory, public health, artificial intelligence, or climate [related]. You name it. It's in motion, as was witnessed on Saturday morning with the invasion in Israel. Our thoughts and prayers are with the victims and everyone in that war-torn region.
The world is rapidly shifting. And with it, leadership in governance is at a premium. What it takes to be an effective director is altogether different today than it was 20, 10, or even 3 years ago. It requires new skill sets, up-to-the-minute knowledge, and a broader mind-set.
What is certain is that your impact as a director will rise or fall on your willingness to find—and practice—courage. Today's leaders and directors need to get very comfortable with being uncomfortable—and quickly.
So, what does this new era of courage look like for today's directors?
First, it's about acceptance: accepting that we cannot rely solely on past expertise. Many of today's pressing issues and trending risks are beyond what most directors have ever known.
Next, it is about flexibility, adaptability, and growth. To be effective today, directors need the courage to embrace change—fully. This means learning and building new skills continually. It means staying on top of trends and new innovations.
It's also about embracing and activating the fuller worldview that comes with the diverse voices you've worked to bring into your boardrooms. This means genuinely listening with an open mind when someone expresses dissenting viewpoints or suggests new ways of doing things. It's the untapped wealth of those broader insights where you're most likely to find the seed of a solution to the next unforeseen challenge.
Most critically, what's needed in today's boardroom is cultural change. Five years ago, we asked boards and management teams to focus on organizational culture. Now, with this year's Blue Ribbon Commission report, we're asking boards to turn the lens around and focus on their own cultures. Our Blue Ribbon Commission reports are the culmination of months of collaborative work done by leading directors and experts convening to dive deep on a topic. This year's report on board culture looks inward at the board itself. We cannot survive the crushing external forces of change if we stand fixed, immobile, and stagnant. It's here that the willingness to practice courage is paramount.
The truth is that high-functioning boards need highly developed cultures to make better decisions. Boards have become experts at challenging management. But all too often, we're averse to challenging our fellow directors. And in this environment of rapid change, the way you're going to advance the effectiveness of your board's leadership is by strengthening its culture.
Central to board culture change is accountability. And central to accountability is clearly distinguishing between who you may want on your board and who you actually need.
That means ensuring that evaluations within the boardroom have teeth and practicing courage by dealing with egos and maybe even a few directors who may be domineering, toxic, or underperforming. We all have seen those disruptive forces in the boardroom, and we know how they can impede positive, impactful leadership. The time has come when we can no longer choose collegiality over courage.
In short, today's boards need intellectually curious leaders with forward-thinking mind-sets and a clear vision of what is in the best interest of the board and organization, including when it may be time to step off the board.
That's a lot, I know. But here is what is certain: all of you exemplify the courage that leaders in governance need to face what comes tomorrow….
This is your community that we work hard to cultivate for you. And it is through this community that we can share our knowledge and critical insights that have been gained through our experience in the boardroom.
We also bring these experiences to you. For instance, thanks to my hardworking and creative team, earlier this year our NACD Advisory Councils gathered in unique settings like the Federal Reserve Bank of New York and the New York Stock Exchange. We heard directly from newsmakers like the Ukrainian Ambassador to the United States, Oksana Markarova, and the US Attorney for the Southern District of New York, Damian Williams. The Advisory Councils met with congressional leaders from the House Financial Services Committee and made a site visit to the US Secret Service to experience its cyber investigative capabilities.
We do this not just for the first-hand knowledge that you gain or for access to such valuable bird's-eye views. It's for the connection it builds within this community of peers.
As we embark on this year's Summit, we want to continue to extend this firsthand knowledge and connect you to vital information on technology, geopolitics, culture, diversity, sustainability, and of course board governance itself.
I strongly encourage you to take advantage of the many resources here at Summit and the impressive lineup of experts we have curated to teach, inspire, and challenge us, such as Ian Bremmer, Gretchen Carlson, Ken Chenault, Ken Frazier, Oscar Munoz, Paul Rosen, Reshma Saujani, Leo Strine, Dr. Doris Taylor, and many others.
I hope you will also take advantage of everything we offer day in and day out, and in times of crisis, just as we did at the outbreak of the Ukraine-Russia war, when we immediately partnered with Cybersecurity and Infrastructure Security Agency director Jen Easterly on the Shields Up initiative to help your companies prepare, respond, and mitigate the impact of cyberattacks.
Our team is vigilant throughout the year on your behalf. We cultivate relationships with key decision-makers in Washington, DC, to ensure that the director position on critical issues affecting your boards is represented. In July, when the US Securities and Exchange Commission issued its final cybersecurity rules, NACD's comment letter was referenced as a resource eight times, aptly demonstrating that the voice of directors was heard by the Commission.
And when need be, we're ready to play watchdog, just as we did with the recent proposal from the Public Company Accounting Oversight Board. We objected strongly to its draft rule suggesting that external auditors function more like lawyers, putting all of our boards and companies at unnecessary risk.
We bring to you the most current information and education so you're prepared for what is around the corner.
Today we stand at a crossroads—and at crossroads you always have choices. I am not going to pretend that ever-changing tides don't have the potential to sweep away the good. But I am certain that if we anchor ourselves in courage, we can deliver on the promise we made to ourselves and the organizations we serve and that the possibilities for opportunity will be immense.
To bring this home, I challenge each of you:
First, embrace change with an open mind and realize that change is the catalyst for progress.

Second, do something differently than how you've done it before. Adapt, pivot, and forge new paths with resilience.

Third, and most importantly, hold your boards accountable. Nurture inclusion and collaboration—and practice courage.
Thank you for being integral to the NACD community. We see you, we hear you, and we're here for you. As one NACD, let's choose courage and embrace the future together.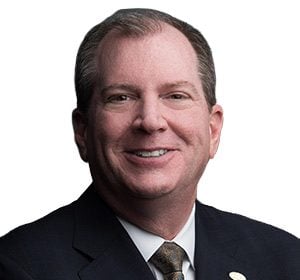 Peter R. Gleason is president and CEO of NACD.
Exclusively for NACD Members
NACD Directorship
Certification®
A distinguished mark of commitment to director education.